Your Community Foundation Staff: The Year Past, the Year Ahead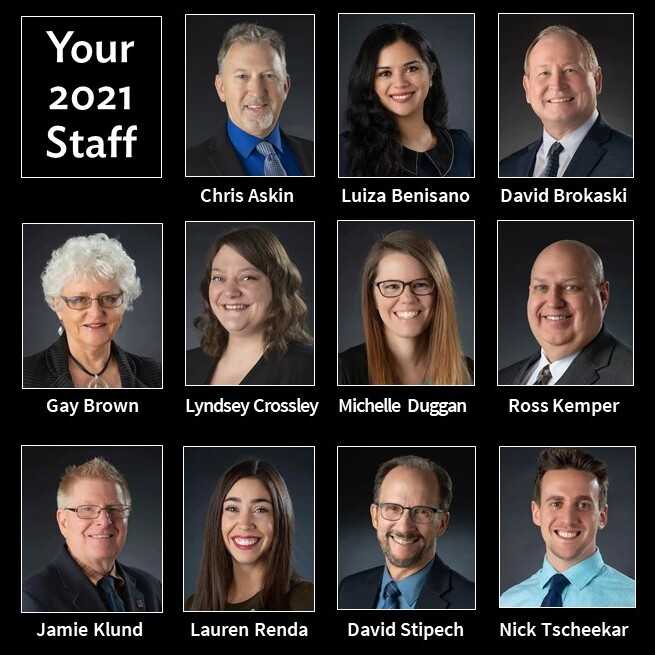 As we move into the New Year 2022, we've asked staff to share their highlights, milestones, and notes of appreciation from the year just past, along with aspirations and plans for the year ahead. To learn more about our team, visit our website.
Chris Askin, President & CEO
2021 was the year we achieved what I feel could be our best staff as a total team with the addition of Dave Brokaski (CFO), Ross Kemper (Controller), and David Stipech (Director of Marketing). The depth of experience and professionalism with this team, added to our incredible team members in stewardship and community engagement, have made it much easier for me to retire. They have the skills and experience to ensure that the Community Foundation moves forward with audacious goals and achievements.
In the face of the pandemic's second year, with 100% of staff working on-site, we had zero incidences of anyone contracting COVID, including not just staff, but board members and others who met in our offices.
We not only achieved our goals, we well exceeded them in terms of both programmatic/impact work, and financial results.
Under the leadership of past Board Chair Steve Carrick (2019-2021) and current Board Chair Kevin Melcher, the board undertook a thoughtful and "future looking" process to secure a new President & CEO of the Community Foundation.
Aspirations for 2022: Shoot for the stars!
Luiza Benisano, Community Engagement Associate
2021 highlights: It was a busy and successful year for growing our support to help prevent financial scams and family caregivers. It's so great to hear from all those who were helped this past year!
2022: Scammers never rest, and caregivers always need support, so we look forward to helping keep our community safe and cared for in the year ahead.
David Brokaski, Chief Financial Officer
Reflection on 2021: This has been an evolutionary year at the Community Foundation with continued change, coping with the ever-changing pandemic circumstances, and changing staff. This year of preparation leading up to a change in the CEO has put us in the position to continue the evolution and growth in the capabilities of the Community Foundation. We began preparing for the work ahead, including the upcoming software system conversions, as well as the many opportunities still to be discovered. An exciting time for sure.
Aspiration for 2022: I would like to see Reno-Tahoe area come together in order to create impactful awareness and gain traction on the homeless situation. With so much to be thankful for living in a great place like Reno-Tahoe, we all need to engage and realize that we are not immune to the tough challenges many other areas face as well and do our best to prevent such indignity.    
Gay Brown, Accountant
It was so encouraging in 2021 to see the response by so many of our fundholders and donors from far and wide to the challenges that we all faced. The finance team processed a record number of donations, grants, and scholarships.
Like everyone, I look forward to 2022 being a calmer and more "normal" year, but I am confident that the Community Foundation staff and Board are ready to serve, no matter what situations arise.
Lyndsey Crossley CAP®, Philanthropic Services Advisor
Aspirations for 2022: Seamless transitions with our new financial and database systems as well as with our new leader.
2021 highlights: The Community Foundation of Elko County surpassed the $250,000 mark for their endowment fund and granted out its largest grant cycle to date as well ($58,898). This was again in part thanks to an anonymous donor through the Western Colorado Community Foundation.
2021 acknowledgment: It was so great to have 32 area organizations submit letters of interest in this year's grant cycle, and half were invited to submit full proposals. I'd like to thank and applaud all of the organizations who submitted LOIs, as a reflection of their commitment to our community: 

Envirolution | Reno Food Systems | Truckee Meadows Community College Foundation | Truckee Meadows Parks Foundation | Walker Basin Conservancy | Keep Truckee Meadows Beautiful | Reno Bike Project | Sierra Nevada Journeys | Boys & Girls Club of Truckee Meadows | Boys & Girls Clubs of Western Nevada | Feather River Land Trust | Tahoe Rim Trail Association | Desert Research Institute | Great Basin National Park Foundation | Headwaters Science Institute | Truckee Donner Land Trust | greenUP! | Soulful Seeds | High Desert Montessori School | Eastern Nevada Landscape Coalition | Northern Sierra Partnership | One Truckee River | UC Davis Tahoe Environmental Research Center | Nevada Land Trust | Nevada Outdoor School | Girl Scouts of the Sierra Nevada| Nevada Humanities | The Nature Conservancy of Nevada | Sierra Association of Foster Families | Nevada Area Council Boys Scouts of America| National Automobile Museum | Friends of Black Rock/High Rock.
Michelle Duggan, Board and Housing Land Trust Administrator
We sold the first single-family home through the Community Housing Land Trust in January 2021. My hope for 2022 and beyond is that we can continue to work to address and make a dent in affordable housing in our community through the CHLT. 
Hitting $150 million in assets was a huge accomplishment! 
We've also spent the past several months preparing to say goodbye to our fearless leader of 21 years. The Community Foundation would absolutely not be where it is today without Chris, and all of these accomplishments root back to him. 
Ross Kemper, Controller
2021 highlights: This year we have been able to have more meetings in person. While meeting on Zoom works well, it was nice meeting Board members in person, and I am looking forward to meeting more of them in the various committee meetings this coming year.
Looking ahead to 2022, there will be several changes that will be good for the future of the Community Foundation. We will have a new CEO to build on Chris Askin's legacy and we will be changing our financial software to better suit the growth of the organization.  
Jamie Klund, Development and Grants Officer
2021: Proud of success of the Village on Sage Street in helping over 425 individuals with safe and affordable housing and the reemergence of in-person meeting, including Family Estate Planning Series this past fall after the previous two sessions in 2020 and 2021 were held by connecting participants remotely online.
2022: Looking forward to completing funding for two of our affordable housing projects: the Village on Sage Street and the start of the 20 affordable homes to be built in Golden Valley. Also excited about the hiring of our new President/CEO and seeing what his or her vision for the Community Foundation will be next year and beyond.
Lauren M. Renda, CAP®, Philanthropic Advisor
2021 highlights:
Seeing the generosity of our donors/fundholders who are so willing to help when disasters arise. Locally, funds included the Caldor and Dixie fires, and globally, the earthquake in Haiti and humanitarian crisis in Afghanistan.
Funding over 1,000 grants 
Record-breaking scholarship year with 215 students receiving awards totaling $723,085 from 34 different scholarship funds
The final grant from COVID-19 Relief Fund went to the Renown Health Foundation: Approximately $17,600 for home oxygen set-ups for discharged COVID patients.
David Stipech, Director of Communications and Marketing
2021 highlights:
Joining the Community Foundation's talented team in June was a highlight, succeeding Margaret Stewart upon her retirement after 20-plus years with the Community Foundation. 
Milestones include continuing to polish the new website and enhance our growing range of communications and marketing efforts. 
And while the credit goes to my predecessor and colleagues, the 2020 Annual Report that was published this past spring is a beautiful encapsulation of the Community Foundation's work in our community
Aspirations for 2022:
Looking ahead, I'm excited for Chris as he enjoys retirement, and eager to introduce our next leader to the community to begin a new era for the organization.
 I look forward to working with our Board and staff to elevate awareness of and engagement with the Community Foundation of Northern Nevada.
Nick Tscheekar, Community Engagement Officer
2021 milestones:
Publication of the Caregivers' Compensation Guide, which has been downloaded 541 times. A very special thank you to Cheryl Dinnell, Anna Olsen-Figueroa, Deanna Hearn, Rachel Jelenic, Eduardo Martinez, Jean Myles, Lora Myles, and Ann Schaack for helping to create the guide.
Completion of scam-prevention public service videos in collaboration with the Better Business Bureau.
Start of twice-monthly scam alerts and tips this past April.
We facilitated several listening sessions in support of our Diversity, Equity and Inclusion efforts, and with the help of the DEI Task Force, we worked to ensure our committees, policies, and operations reflect this commitment as a priority.
Thank you to the 2021 Nonprofit Academy speakers: Alissa Nourse, Amy Berry,  Bonnie Drinkwater, Edward Estipona, Kate Clavijo, Kelly Glenn, Kim Young, Kurt Mische, Linda Lysakowski, Mary Ann McCauley, Mat Sinclair, Michael Brazier, Mike Wurm, Nicole Lamboley, and Stacey Rice.
2022 aspirations:
Launch of newly revamped NevadaCaregivers.org and a third print run of the Guidebook.
Debut of community training on scams and financial abuse
---
The Community Foundation of Northern Nevada is strengthening our community through philanthropy and leadership by connecting people who care with causes that matter. We welcome your call at 775-333-5499 or email us at info@nevadafund.org.
January 1, 2022