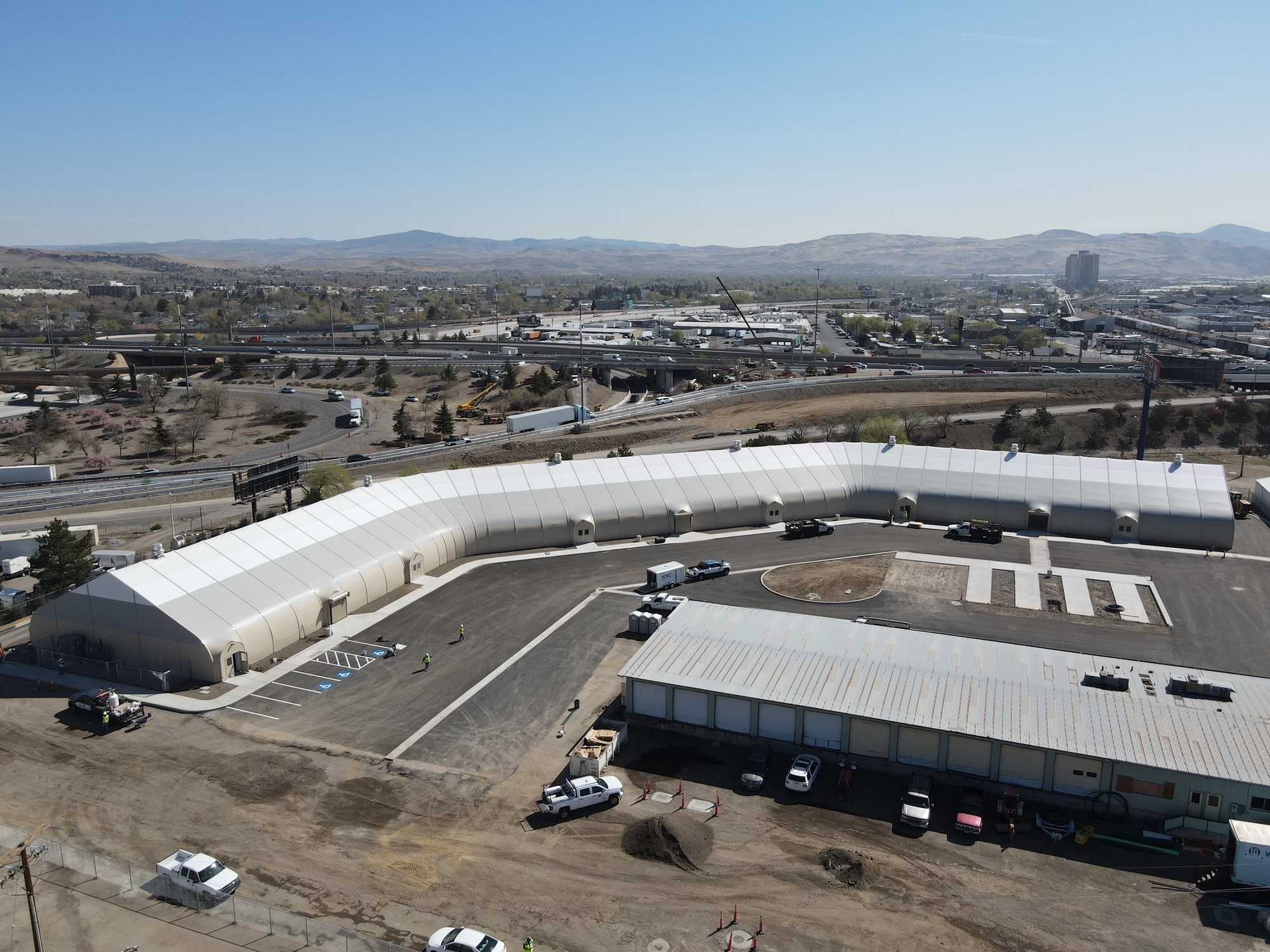 Nevada Cares Campus Fund
The Nevada Cares Campus is under the direction of Washoe County. To contact the Nevada Cares Campus directly, please call 775-329-4141.  
For more information on available resources please call Washoe County Housing and Homeless Services at 775-325-8210 or via email at: RegionalHomelessServices@washoecounty.gov 
The Nevada Cares Campus is under the direction of Washoe County. To contact the Nevada Cares Campus directly, please call 775-329-4141. 
For anyone collecting donations or interested in donating items directly to the Cares Campus, please coordinate through the County Manager's office: Maria E. Alvarado, Program Assistant. Housing and Homeless Services, 775-328-2724 or email 
malvarado@washoecounty.us. Thank you.
Related News Item: Washoe County Takes Over Cares Campus, Reno Gazette-Journal, Updated 10/31/21
---
The Nevada Cares Campus – Addressing a Critical Need
The Nevada Cares Campus is bringing shelter, access to sustenance, and wrap-around services to help our region's most vulnerable.
Washoe County is the operator of the Nevada Cares Campus, and those wishing to help support the project can do so below, via a fund set up with the Community Foundation. 
Join us to house, protect, and elevate our neighbors who need it most.
Throughout northern Nevada, houselessness and housing insecurity are growing problems. As our unsheltered populations soar, our community finds itself on the brink of a humanitarian crisis—and significantly diminished quality of life for all who live here.
While addressing homelessness--with all of the myriad of factors and challenges--is complex, it is not insurmountable. Each of us can play a critical role in mitigating houselessness and laying the groundwork for a better future.
Help get our 700+ unsheltered neighbors the help they need and transform our community for the better.
The impact of an investment in the Nevada CARES Campus is not a guess. We know that the proposed, evidence-based approach will help to mitigate houselessness and its related challenges in our community because we have seen it work. An example within our own community includes Our Place, which supports women and children experiencing homelessness, and beyond our borders, anti-poverty advocates have celebrated Haven for Hope (on which much of the CARES Campus model is based) in San Antonio, Texas.
Chip in to Support the Nevada Cares Campus
With your help, the Nevada Cares Campus will centralize shelter and wrap-around services that will simplify the process of diminishing houselessness, putting people on the pathway to recovery, health, and financial stability. It will eliminate many of the physical and administrative barriers to assistance that our vulnerable neighbors currently face and improve the quality of life for everyone in our region.
We need your support to make this community project a practical reality. Will you commit to helping us reach this all-important goal?
Donate online: Click the link below to support the Nevada Cares Campus.
Contribute by check: Make your check payable to the Community Foundation of Northern Nevada and write Nevada Cares Fund on the memo line. Please mail to 50 Washington Street, Suite 300, Reno, NV 89503.
Contribute Stock: Contact Lyndsey Crossley at 775-333-5499 ex 12 or via email at LCrossley@nevadafund.org.
If you wish to be anonymous let us know.
Yes! I'd like to donate today.